200-Hour Yoga Teacher Training Sri Lanka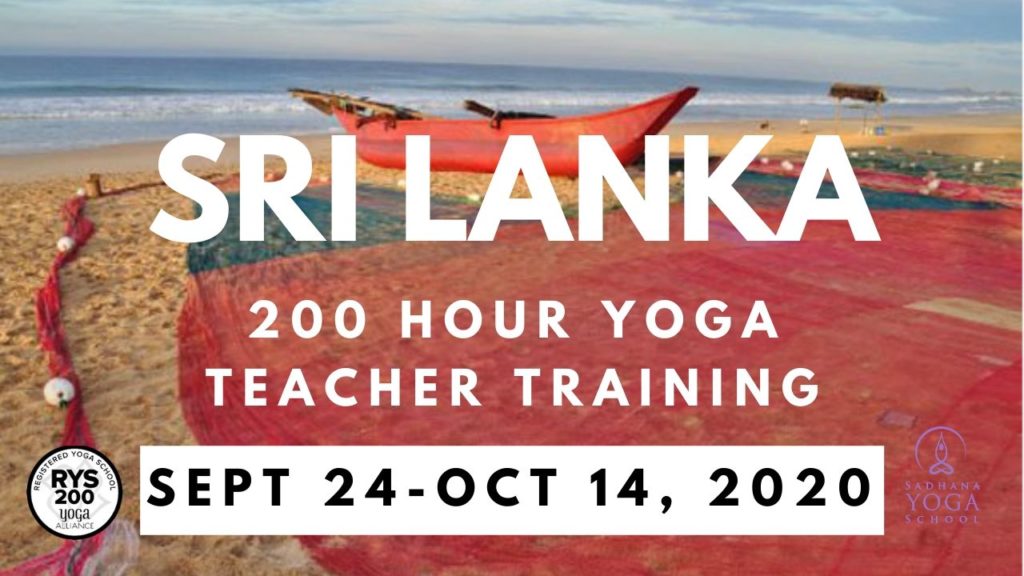 PROGRAM LOCATION
Villa De Zoysa in Sri Lanka
LEARN TO TEACH YOGA ANYWHERE IN THE WORLD
YOGA TEACHER TRAINING IN SRI LANKA
Do you ever wonder what yoga really is? If it's more than just fitness? More than a modern hippy fad? Do you have a desire to know what else yoga can offer you? If so, our Yoga Alliance-certified Foundational 200-Hour Yoga Teacher Training in Sri Lanka is perfect for you.
In this Sri Lanka yoga teacher training course we will live together for 21 days at beautiful villa near the beach. The ocean absolutely stunning and the rooms are beautiful, and the food is amazing.
It's like an idyllic sanctuary—one of beauty, awe, and near perfection. It is the perfect place to reconnect with yourself, to others and to the earth. Looking out at the sunrise or the sunset, one can see the full beauty that is in this world.
At this training we will share brunch together, we will meditate together each morning looking out at the Indian Ocean, practice yoga together on the open air deck, engage in meaningful philosophical discussion in a conscious way allowing us to explore the depth of mind and emotion and we will explore the physical and energetic bodies finding ways to connect our inner and outer world. By incorporating yoga in its totality we will learn to teach through our own daily practice.

200 Hour Yoga Teacher Training in Sri Lanka September 24 – October 14, 2020
What You'll Learn
Philosophy: Learn depth of yoga.
We will study Pranayama, Meditation, Anatomy, Energetic Anatomy, Chanting, Yoga Diet, Introduction to Ayurveda and Yoga and more.
Asana: Learn to teach yoga.
In our yoga teacher training in Bali we will cover history and how to teach Beginner Yoga, Hatha Yoga, Prenatal Yoga, Kids Yoga, Yoga for Special Populations, Yoga Teaching Techniques, Yoga Sequencing, Yoga Modifications and Adjustments, Daily Yoga Teaching Practice and more. All graduates will also leave our program knowing how to teach 2 class sequences confidently—as soon as you get home!
Transformation: Practice the tools to improve your life.
Together, we will learn how to Develop Your Practice, Get Stronger, Learn to Relax, Work through Life Changes, Inspire, Dream, Find Clarity, Uncover The Business of Yoga
Typical Day
DAILY SCHEDULE
6:00 a.m. — Mantra, Pranayama, Meditation
6:45 a.m. — Yoga Class
8:30 a.m. — Spiritual Lessons
9:00 a.m. — Yoga Sutras
10:00 a.m. — Brunch and Break
2:00 p.m. — Special Topics/Yoga Anatomy
3:00 p.m. — Art of Teaching
6:00 p.m. — Dinner
7:00 p.m. — Satsang
Tuition & Pricing
How much is it worth?
The changes you will see in your life are priceless. Remember, you will benefit from this program for the rest of your life. Not only will you have the skills to have a fun, fulfilling and inspiring career as a yoga teacher, but you will also improve your personal practice and be able to take every aspect of your life to the next level.
According to CNN, experienced yoga teachers with at least 7 years of experience earn an average of $62,000 per year, and yoga teaching is ranked as the #10 most desirable job in the United States. Starting yoga teachers earn an average of $30-65 per class depending on location—making it easy for graduates to earn back their tuition in three-to-six months of teaching and then have a skill set that serves them for life.
Tax deduction?
Check with your local tax advisor, but in most jurisdictions professional yoga training can be deducted as a business expense resulting in a considerably lower course cost due to tax credits/refunds received. If you need an official tax invoice, just ask. We're happy to help!
SRI LANKA TUITION
$2,800
200 Hours of Yoga Teacher Training along the beautiful beaches of Sri Lanka
Program Manual
Certification to teach yoga anywhere in the world
ROOM AND MEAL PLANS FOR SRI LANKA
$1,300
Room and Meal Plan Options:
Shared Room: $1,300
*Includes 2 large meals a day, plus a snack midday. Food is vegetarian and is local, fresh and delicious!
*Includes room for 20 nights/21 days. Additional accommodation available upon request for additional cost.
Payment Plan Options:
Pay in Full: $3,600 (Save $500)
3-Month Payment Plan: $1,350/month
6-Month Payment Plan: $700/month
Please see full refund and cancellation policies her
Scholarships
We award scholarships of $250, $500 & $700 off a program's tuition for yoga teacher training in Sri Lanka. This cannot be combined with any other discounts, or early bird pricing. Apply for a yoga scholarship in minutes.
Grants
Live in Vermont? Vermont Student Assistance Corp. (VSAC) offers grant options for Vermont residents.
Learn more about how to apply to get up to $2,500 USD off of your tuition!
*Scholarships cannot be combined with any other discounts.
Additional Costs
Required Textbooks
"Teaching Yoga," Mark Stephens. Purchase here: http://a.co/bU5lQG5
"Secret Power of Yoga," Nischala Joy Devi. Purchase here: http://a.co/bfd3S47
Airfare and Transportation to and from the airport
It is your responsibility to book and pay for your flight
Airport transfer is private taxi, $40 USD each way. There is option to share taxi with other students to lower costs.
Please send us your flight information, and we will arrange your transportation

WHAT SETS US APART?
YOGA FOR EVERY BODY
Our programs are intended for all ages, genders, bodies, experience levels and backgrounds
WELL-BALANCED CURRICULUMS
Our curriculums are rooted in ancient Yogic and Ayurvedic healing traditions—yet easily applicable to the lives of modern yogis.
SAFE AND SAVVY TRAVELERS
New to traveling? We've been coordinating immersion programs for over 10 years and are here to help you every step of the way.
EXPERIENCED TEACHERS
Our program facilitators and instructors are required to have a minimum of 1,000 teaching hours via Yoga Alliance.
AFFORDABLE PRICING
The most affordable transformative yoga teacher trainings, retreats and online courses you'll find.
BUCKET-LIST DESTINATIONS
Programs offered in the world's most sought-after sacred destinations such as India, Bali, Sri Lanka, Guatemala, Costa Rica and more.

WHAT OUR GRADS ARE SAYING
"There's no easier way to add innovative Gutenberg blocks than using Qubely Gutenberg Blocks Toolkit. Instantly raise your website appearance with this stylish new plugin."
What People Are Saying About Us
"Amazing opportunity for yoga teacher training course. So many great options for whatever type of experience fits your lifestyle!" – Danielle,
"I thoroughly enjoyed my experience at Sadhana Yoga School. Anjili & Bryan both have a world of knowledge that they impart to their students. I would highly recommend this program to anyone who is looking to either begin or continue their yoga education."
"I went to Fiji in September, 2014. Looking back now in 2016 I understand that this was the best yoga teacher training program I could have ever imagined. Not only did the training improve my physical practice, but I have now embraced Ayurveda and am a much, much healthier person than before my training. I even sent my 19-yr.-old son to Fiji in 2015 to do his 200 hr. training. He had a blast! Daku Resort is sweet."
Are you ready to take the first step toward transformation?
Recommend

0

recommendations
Published in Uncategorized