Giving the Gift of Yoga to Unexpected Populations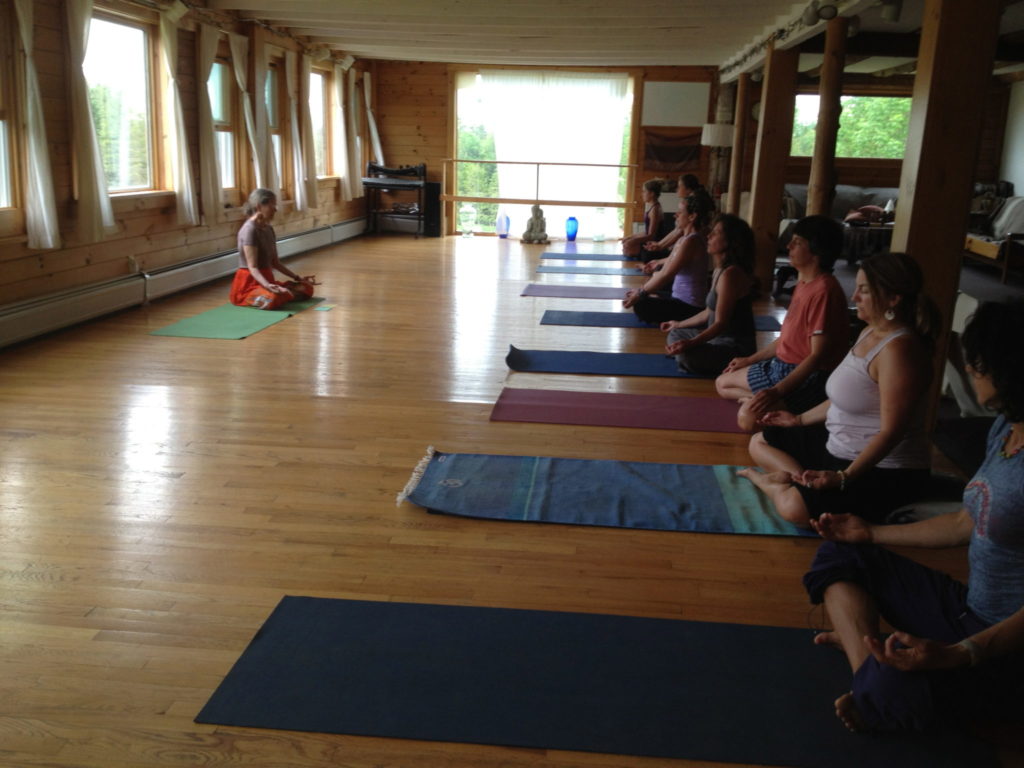 Certified Yoga teachers have a gift – that gift is the gift of yoga. And there are plenty of people who seek out your gift, at a local yoga studio or gym or private practice. According to the 2016 Yoga Alliance Study of Yoga, there are 36.4 million yoga practitioners in the US alone – which creates a big market for people interested in trying yoga – people actively willing, able, and desiring the practice of yoga in their daily lives – many being transformed, healed and uplifted by its practice.
At the same time there is an alarmingly large number of special populations that don't have access to yoga, have never heard of yoga or tried it. This includes the impoverished, children, elderly, people with post traumatic stress disorder, children and adults who have suffered through trauma and more. These are often the people who really need it the most and yet most of them lack the resources to access it.
One of these special populations are those living under correctional supervision – incarcerated individuals at prisons, correctional facilities, jails, and juvenile detention centers.
The statistics are alarming: today, 2.25 million men and women – 1 in 100 adults – are in U.S. prisons. 1 in 31 adults, or 7.3 million Americans, are under some sort of correctional supervision. And 60% of released prisoners will return to prison within 3 years. To truly help men and women in prison to turn their lives around, we need to do something different.
Sadhana Yoga School facilitator, Stephen Bethel (aka Bethel), had the opportunity last year, to start teaching yoga in the New Hampshire State Prison in Concord. It's a maximum security men's prison. Today, we will share this touching story of the impact Bethel's volunteer work has had on the community, the inmates, and the impact it had on him as a person, and a yoga practitioner.
Class is open to those with a good record inside. Talking after class, students have mentioned sentences remaining of a matter of months to thirty years. Once we sit down on our mats and focus in on our breath, my goal is to bring us all into the present for a little while, and relieve us of our differences. For that hour, it doesn't matter what people are in for, or how our society has seen fit to punish them.
The first class for me was mostly about watching and learning from John, who started the program 40 years ago, in the 1970's, when he was still quite new to yoga himself. He had the inspiration to share his new practice with the prison inmates.
It was great to feel the comfort and rapport he felt with the dozen or so guys who showed up for the class. They were in their prison pants and t-shirts, some in gray standard issue gym shorts. I was practicing along as John rolled them through some poses. With 20 minutes left, he suddenly turned the class over to me. After an instant of surprise, all my training and experience rose to the surface and I was the yoga teacher that has been teaching for 12 years in all kinds of situations. The students were openly grateful after class.I co-taught one more class with John, and then started showing up on my own.
A consistent group has been coming to our once a week sessions: 10-18 guys. For now, I am alternating weeks with my friend David, who has been volunteering for 10 years.
Students vary in age from early twenties to seniors. To a man, these guys give themselves into it. Some have had yoga experience outside. Moving through a moderate vinyasa practice, they modify the poses as need be, for shoulders bulked and limited by lifting weights, hips unused to sitting on the floor, injuries old and not so old. At the end, laying on their backs, there is no stirring.

Bright lights stay on (so security cameras can see), no music, quiet. There is that same pervasive peace as after any yoga session, of people releasing. For a few moments, the difference between inside and outside evaporates.

After class, rolling up their mats, many of the students walk up to me to shake my hand and thank me. I encourage them to take some bits– a simple breath exercise, a little meditation, a few basic stretches–into their daily routines. Or into times of stress. Several have said that this hour is the only hour of their week that is quiet.

Some have spoken of PTSD, or stress issues, and the struggle to manage it in the mostly constant noise and disruption in some of the blocks. Their deep, spontaneous appreciation for yoga has lit a complimentary renewal of gratitude in me for the power of this gift that we, as teachers, have to share.
Whether you are new to yoga, or have been practicing you whole life, student, or teacher, don't underestimate the power of yoga in your daily lives, and in the lives around you. The smallest gesture and effort can reap remarkable benefits, especially for so many who have had life experiences that have brought their lives to a tipping point like incarceration. Only by helping these individuals, heal from the inside out, can they truly begin to rediscover the divine light each one of them has inside – and has been there all alone – and reclaim their lives. Are you Considering yoga teacher training? Our 200-Hour Yoga Teacher Training is the first step in the process, learn more today, see our schedule , and then consider the gift you can share and the powerful impact you can have on others, just like Bethel. Click here to learn more about Stephen Bethel, and learn more about The Prison Yoga Project and recent studies.
Recommend

0

recommendations
Published in blog, Yoga