Ways to save for yoga teacher training with Sadhana Yoga School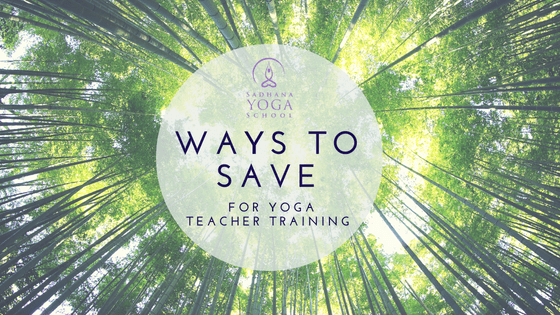 Greetings from Bryan and Anjili Russell, co-founders of Sadhana Yoga School!
We know that yoga teacher training is not a cheap endeavor. However, we also know from experience that growth, happiness and balance are priceless gifts of which we are all worthy.
We have been leading yoga teacher trainings all over the world for over 10 years, and have witnessed firsthand the transformative power of yogic practices.
At Sadhana Yoga School, we do our best to make programs financially attainable for all. Don't miss out on an investment that will change your life. Learn more about ways to save below:
WAYS TO SAVE*:
Early bird discounts: Save up to $1,000 USD off your tuition when you enroll early with just $350 deposit. View the Sadhana Yoga School yoga teacher training schedule to browse early bird deadlines.
Pay in full: Pay in full to automatically get $700 USD off your tuition! We accept credit card, pay pal and ACH transfers.
Scholarships: Save up to $700 USD off your tuition by applying for need-based scholarships. More info here.
Grants: Are you a Vermont resident? We accept VSAC grants that could cover your entire tuition costs!
Alumni discounts: Have you completed a training with Sadhana Yoga School? Enjoy discounted tuition on our 300-hour Advanced Yoga Teacher Trainings.
Are you ready? Enrolling is as easy as 1, 2, 3:
STEPS TO ENROLL:
Visit our GETTING STARTED PAGE. Browse our schedule and select the program that is right for you. Not sure which yoga teacher training to select? Email us at info@sadhanayoga.com or schedule a phone call with us — we are happy to help answer any of your questions!
Visit sadhanayoga.com/enroll to either a) place your $350 USD deposit or b) pay in full. Either option reserves your spot.
Our team will be in touch to confirm your enrollment, provide your welcome packet with information on booking flights, room and food package and to set up your payment plan if you did not pay in full at time of enrollment.
*Please note, some discounts to not apply to all programs. See program-specific pages for full details.
Recommend

0

recommendations
Published in blog