Online: 200-Hour Yoga Teacher Training
Sadhana Yoga School - teaching yoga teachers in person & online for over a decade.
Welcome to Sadhana Yoga School.
We host life-changing yoga teacher trainings, retreats, coaching seminars and workshops all over the world & online for adults, children and families. Our Yoga Alliance Certified programs have helped facilitate growth, healing and transformation for countless graduates worldwide.
We are based in the United States and have hosted over 120 in-person yoga teacher trainings in 10 countries since 2007, and are now offering the same professional trainings online.
You are probably thinking….is an online training really as good as a in-person training? When we started the first online training in April, 2020, we asked ourselves the same question. We made it our mission to put all the magic of our in-person training, into the online format.
Since April 2020 we have hosted 16 online trainings with over 500 students. The feedback has been beyond our imagination. Student from around the world are LOVING this online training. In fact our reviews on Yoga Alliance has actually gone up since we started the online training.
Finally, a way to feel prepared for your 200-Hour Yoga Teacher Training
10 Questions to ask before Choosing a Yoga Teacher Training
7 Things to do to prepare for your 200-Hour Yoga Teacher Training
3 Things to Remember while taking the training
Sample Lectures from our 200-Hour Online Yoga Teacher Training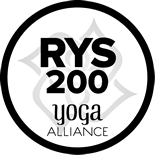 200-Hour Yoga Certification 100% ONLINE
Since 2020 we have offered our 200-hour Yoga Teacher Training as a 100% Online Yoga Teacher Training. This has been fully acknowledged by Yoga Alliance, and you will be able to register with Yoga Alliance as an RYT-200 upon successful completion of the training.
What Our Students Have to Say
I thoroughly enjoyed my experience at Sadhana Yaga School. Anjili and Bryan both have a world of knowledge that the impart to their students. I highly recommend this program to anyone who is looking to begin or continue their yoga education.
Amazing opportunity for yoga teacher training course. I learned so much about myself and what I want in this life. Yes, yes, yes, just do it!
This was the best month of my life. I learned so much in such a short space of time. I enjoyed all parts of the course. They kept true to yogas origin and spiritual background ,they taught in a warm loving way, they were kind and approachable. They made the course feel like a family. Can't recommend them higher.
Taking this training is the best thing I've ever done for myself.
I know understand that this was the best yoga training I could ever imagine. Not only did the training improve my physical practice, but I now I embrace a yoga lifestyle and am a much healthier person than before my training
I realize now, the journey through a yoga teacher training is much more than a certificate program or course, it really was a pivotal turning point in my life. My life will never be the same again. Thank you!
I am forever grateful to Sadhana Yoga School for their professionalism and their collective experience as teachers and guides. I would train with them again any day!
Had a wonderful experience with Sadhana Yoga School for both my 200 and 300 hour training.
Small Business Consulting with Bryan
You have the idea and inspiration, I can help you make it real.