6 Things You Need to Design an Awesome Yoga Class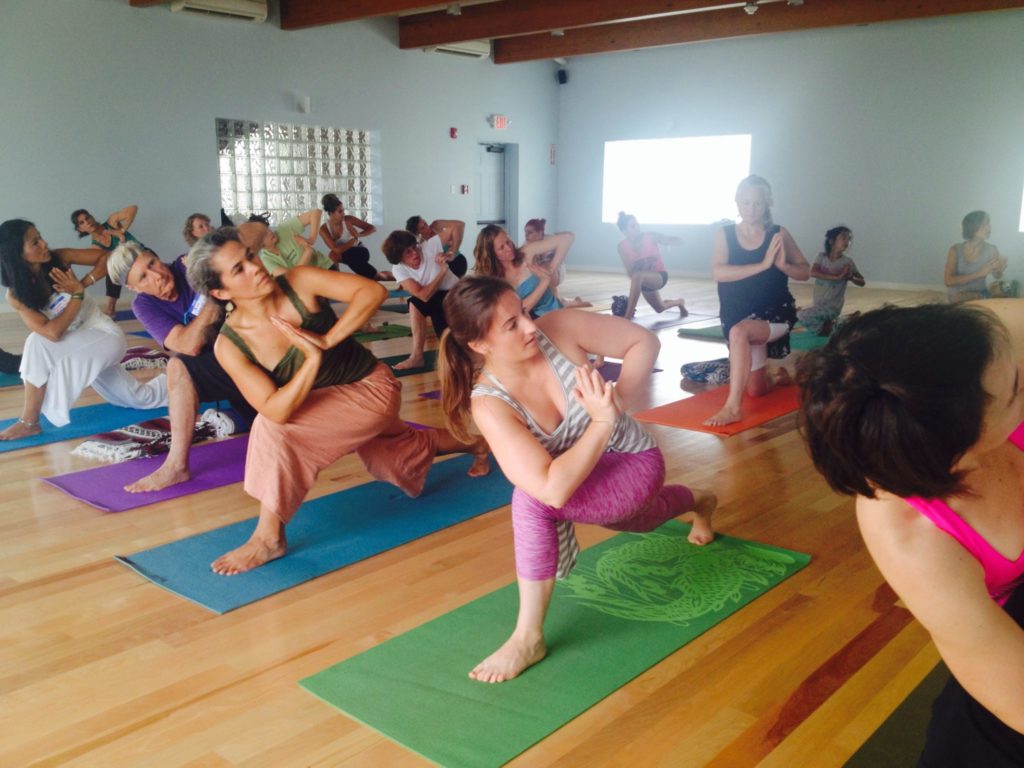 Yoga instructors have a big responsibility when it comes to designing a yoga class, week after week, for a changing roster of students – motivate, entertain, inspire. Keep them coming back to explore the spiritual, mental, physical and emotional health that yoga provides…in a 60, 75 or 90-minute sequence. No pressure…right?
It takes time to plan each class to ensure you are offering unique and enriching classes each time. Today, we'll look at five ways to make your class your own.
1. Be Yourself
As a yoga instructor, the number one rule to designing an awesome class is to be yourself. For a time after your training you may take on the habits, voice, and quirks of your instructors, but eventually, that is going to morph into your own unique personality and character and that is what is going to keep people coming back to you.
Yoga is all about authenticity and showing up authentically every time you step on your mat and guide your students through their practice.
By being yourself you are also going to find your niche and discover the types of classes, workshops, and retreats you want to lead. Some teachers excel at guiding high-intensity power yoga style classes, hot vinyasa yoga, or a restorative or yin yoga. The great news is that yoga is for everybody and your personality, interests and can you help you find that niche.
2. Pick A Theme
When you are designing a yoga class, one of the best ways to begin to develop an outline and sequence is with a theme.
One type of theme is based on the events of the months or seasons of the year, here are some examples.
A specific time of the month, i.e., the full moon
A specific time of year or season, i.e. the summer solstice
A celebratory day, i.e. World Kindness Day
A Holiday, i.e. Thanksgiving such as we celebrate in America
Another type of theme could be behavioral, for example reminding people about kindness, compassion, self-love.
3. Choose your Music
The music sets the tone for the class and each instructor has their own preference.
Some instructors use no music. This can be a great way to allow students to stay focused in their practice. It may be a little intimidating for students who have always relied on music as a distraction.
The music you choose should go along with the flow of class, if it will be more vigorous and intense perhaps upbeat music is needed to keep the energy levels up until the final savasana when you can slow things down and give people ample time to unwind.
The music can be more gentle if it is more of a smooth, gentle flow or a restorative yoga class. This invites people to slow down and submerge into the stillness without trying to match their body to the beat of the music.
The music may change again for a class like Yoga Nidra which is intended to invite practitioners into a state of rest for the mind, body and spirit.
There are hundreds, if not thousands of available songs to choose from to design the right playlist for your class. It is a good idea to listen to your playlist a few times and make sure it flows with your sequence. You may even be able to find songs that match the nature of the poses or sequences, for example, songs related to meditation, or Sun Salutations.
Music is a very powerful supplement to a yoga class, it can inspire and empower your students.
4. Select a Reading
If you are having trouble coming up with a theme for your class, or if you want to complement the theme choosing the right reading can be especially powerful.
You may be able to find a book of daily quotes that guide your classes for a few weeks. Check out books from authors like Gabby Bernstein, Rumi, Ghandi, The Dalai Lama. The list is endless.
Be sure to share your book with your class, you just never know who the reading may inspire.
5. Set an Intention
Similar to designing your class around a theme, set an intention for your class. This may go along with the theme. Setting an intention may not always be a physical goal or accomplishment. In fact, one thing instructors can encourage students to do is let go of the ego in relation to intention, and connect with something less tangible.
Creating an intention is more about the energy of the self. Perhaps you want to prompt students to dedicate their energy to somene or something in the world that is meaninful to them, or perhaps invite the class to dedicate their practice to an energy that is important to you – a cause, a recent event, something meaninful that really resonates with people.
Intentions could also be physical in the sense of inviting people to stay connected to themselves. For example, if students feel like they are comparing themsevles to other practitioners in the class, invite them to close the eyes. If they find their mind wandering bring it back to the breath or the sound of "om". Intention could bring attention to chakra's, or staying connected to the foundation, bringing awareness always back to the body in places like fingers and toes. A constant grounding sensation can be an important lesson and reminder for any yogi.
6. Create that Peak or "Focus" Pose
Many teachers design classes around a specific pose, called a "peak pose".
These may be more challenging poses that people can work toward. Some examples include bridge pose, crow, firelfy or headstand.
You can also present sequences leading up to this focus pose, for example hip openers that will help work toward crow poses, or arm strengtheners to work toward headstand.
It is a good idea to present the poses in a way that all levels of practitioners can try the pose. This can be done by careful instruction and by incorporating blocks and props. You may also give instructions for people if they want to try the pose outside of the class.
In Conclusion
Every yoga class is unique. As an instructor, it is important that we continue to expand our knowledge of yoga so we can incorporate it into our teachings. It is also important to be receptive to and request feedback from students, there is no such thing as "bad" feedback, every interaction we have with a student is an opportunity to grow as a teacher so embrace it.
Likewise, if you feel your classes getting stagnant, look for ways to dive back into yoga as a student. Take local classes, attend a workshop, watch some online videos. There are more resources available than ever before, some at a cost, some totally free, that can help you develop your yoga practice so you can offer a deeper yoga practice to your students.
Recommend

0

recommendations
Published in blog, Yoga