A Day In the Life of Yoga Teacher Training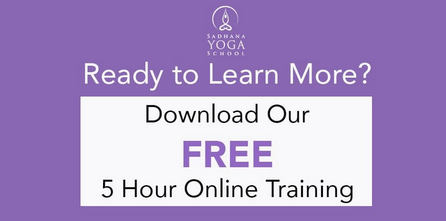 One of the big questions we get when we talk with prospective students is "what is a typical day like?". This video, from facilitator Jeanine Talento, sums it up pretty well. "Sadhana" means daily practice, so during our time together we start to establish new, healthy, daily habits, that can benefit our yoga practice and our life.
At Sadhana, we believe in small class sizes. When you immerse yourself in a yoga teacher training things "open up" and a small group setting is the best way share, process, and manage the impact of that on the mind, body and spirit. By intentionally creating smaller class sizes, this allows us to deliver personal attention to our students, so you aren't just a number, but a member of our yoga family, and getting the most out of your yoga training.
"For me it has been an on-going cycle of learning,changing and growing. I'm learning one lesson after another…without yoga I would be lost from my path. My body craves the breathe, the practice. Yoga & meditation have shown me many different worlds… but the most beautiful part is "we are all connected are all one." -Emily Rendinaro
We begin each day with meditation and pranayama. Meditation is a life changing practice, it helps you learn to quiet the mind, and focus on and be in the present moment. So many people today have regret about the past, but regret is a useless emotion that does not serve you – famous words from our founder Anjili Russell. At the same time, there are a lot of people who worry about the future and what "might happen", but what good does that do. When we can focus on the mind on the present moment it is refreshing and truly liberating. Each day also begins with an asana practice of course – what better way to begin the day! Students also begin to learn how to teach and guide others into meditation. Pranayama – or breath control – is also an integral part of our daily practice, where we learn about different breathing techniques to become mindful and intentional with our breath, and use as a source of vitality, energy and to get through anything that comes our way during the day.
We use our mornings for our daily personal asana practice as well and prior to your training, we will provide you with some links to videos, which you can watch at home to prepare. We have taken great care to develop traditional yoga sequences in both the Hatha and Vinyasa style that our students take, and learn to teach. Whereas some teacher trainings focus on only one sequence, or a limited number of poses, Sadhana Yoga School provides our students with an amazing foundation from which they can lead two different styles of yoga classes, but more importantly, start to sequence and guide their own classes. Each day we spend time breaking down poses so student can integrate them into their own bodies, but also work with peers to learn to teach poses to others. This peer teaching experience is an invaluable exercise that helps teachers develop instructional, speaking, and organizational skills to guide amazing classes.
Catch this vlog from MindSpo founder, and Sadhana Yoga School Graduate for a "Day in the Life of"…from the morning sunrise to the evening Sangha.
Beyond the physical practice of yoga, interwoven throughout the day are workshops and lectures designed to immerse students in the philosophy of yoga – a 2,000 year old tradition – that can truly transform a person's life. From learning to set intentions, to living by the Yoga Code of Ethics, outlined in the Yama's and Niyama's, studying chakra's, and mantra, students explore this, and so much much, to deepen their knowledge of yoga.
During the day students can look forward to a bit of free time. Depending on the location, you might find an Sadhana student climbing the mountains of Bali, or surfing the waves in Costa Rica. As an international yoga school, students might also be able to socialize with others students from all over the world and make some life long friends. Our required and recommended reading lists are also a great way to expand your yoga knowledge, and its free to curl up with a good book, in a hammock.
Ready to learn more? Access our free, online yoga teacher training now!
Recommend

0

recommendations
Published in blog, Yoga Teacher Training Program