Creating a Better World One Child At A Time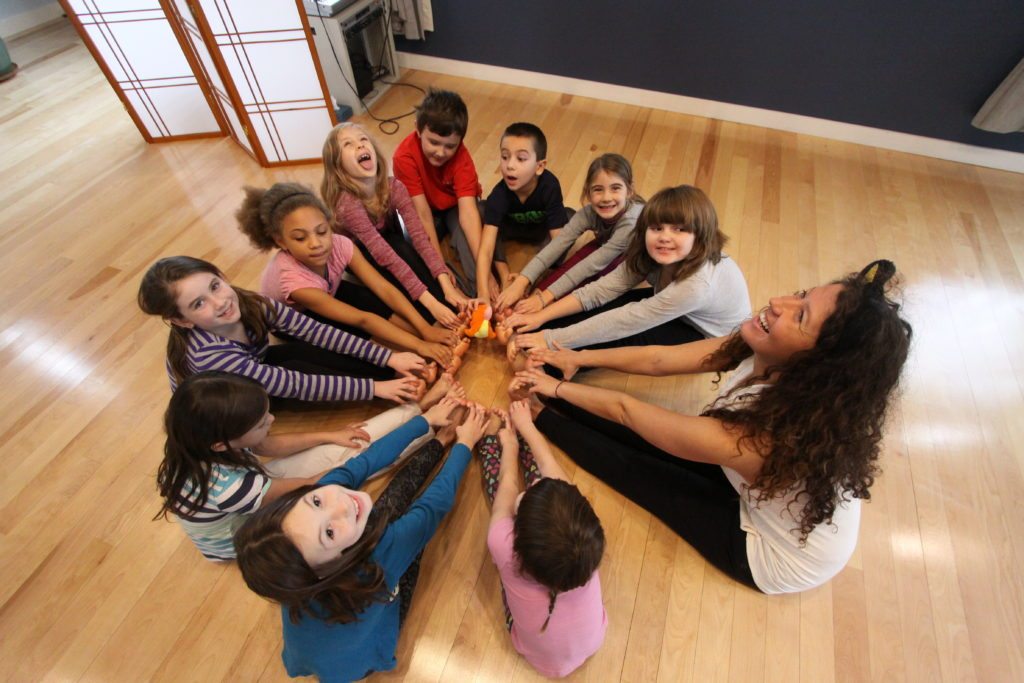 For most of us – adults that is – if we have children we are dropping them off with a partner, family member, friend, sitter, or child care option at your local gym to attend a yoga class. It's a great time to relax, reconnect and really rejuvenate. But as a society we are quickly realizing that it's not just adults that need yoga – kids need it too.
Like adults, children can benefit significantly from a regular yoga practice. Chronic conditions like ADHD, obesity, anxiety, depression, stress aren't just adult issues. The world today is moving faster than ever, it is hard for anyone but especially children to keep up. Children as of all ages are facing the same challenges. For example, 80% of chronic mental disorders begin in childhood and there are more children suffering from psychiatric disorder then cancer, diabetes and AIDS combined. Unfortunately, the solution today for most of these ailments is medication, as rates of medication and prescriptions have risen. But what if there was a way to treat these ailments, in a more holistic, natural, and homeopathic way – there is, with yoga.
How to embrace yoga and restore wholeness. from Bryan Russell on Vimeo
Yoga is not something new, in fact it has been around for over 2,000 years, since the early teaching of Patanjili and the Yoga Sutra's introduced in India. Yoga in itself means "union", and although the westernization of yoga presents the much more physical side of yoga – the asana's that we are all acquainted with in our local gym or studio – there is so much to learn about yoga.
For anyone who has taken a yoga class, you know the sense of energy and joy that comes from a yoga practice, what if you could create that energy every day, every minute? This can be done by integrating the philosophies of yoga into our daily lives both on and off the mat. By embracing yoga philosophy we can restore wholeness.
As adults, we have been somewhat conditioned to focus on the physicality of yoga, with very little attention being paid to aspects other than our asana practice. This includes the yama's and niyama's where we can learn how to exist in this world peacefully. We take time to practice pranayama to control our breath and learn to relax. Through meditation we learn mindfulness and focus.
Children learn about body awareness, balance, coordination and flexibility
Children learn how to take care of their body which in turn may help foster greater care for the food they eat, and develop good healthy habits. This can in turn combat chronic childhood diseases like diabetes.
With the prevalence of ADHD and ADD, yoga can help children develop focus, attention, and concentration. This can help with home, school, and social life.
When children feel good about how they feel in their body they in turn have more confidence and self esteem.
When children practice yoga they learn that life is sacred, all people, animals, the world – this can foster respect, and love for others, helping to create a more peaceful community and world.
One of the other hidden – or not so hidden – benefits of yoga "it's not like a sport where you're trying to compete" (words of wisdom from the great yogi rock star MC Yogi). Despite the cliché that yoga is for certain ages or body types, it is truly for every body and everybody, because yoga goes beyond the physical practice. Below, Anjili Russell, founder of Sangha Relations, displays Meditation charms, made proudly at her kids yoga school students.
When considering the impact of yoga on children, they are, as the saying goes "sponges" so why not give them something good to soak up from the community they are in. And the earlier you start the better off you are, as we all remember what it was like to be an adolescent and teenager – by having a good positive self image, body image, and focused mind we can remain steadfast despite the turmoil's that inevitably come from hormones, bullies, your first crush and SAT's.
Are you looking to take your yoga practice to the next level and learn how to integrate yoga into the lives of children and your community? Check out our yoga teacher training schedule for 200 hour yoga teacher trainings, 300 hour yoga teacher trainings, and 95 hour kids yoga teacher trainings, or check out our free 5-hour online training course.
Recommend

0

recommendations
Published in blog, Yoga