International Women's Day: Celebrating Impactful Women in Yoga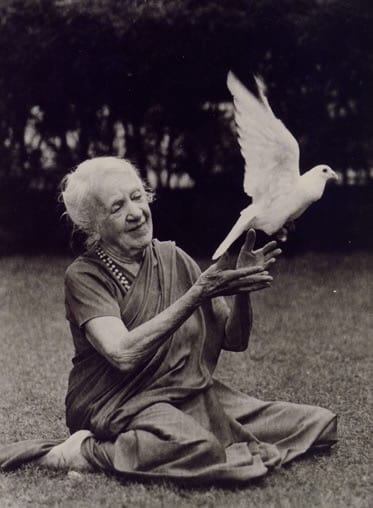 Today, we celebrate International Women's Day by honoring some of the most impactful women in yoga. These women shaped the yoga world as we know it today, sharing its practices as means to not only unite individual mind-body-spirit connection, but to expand worldwide peace and collective consciousness.
Indra, a Russian native, fell in love with the traditions, philosophies and practices of India at age 9. As she grew older her thirst for understanding these traditions only grew, leading her to travel to India in search of a guru. In 1938, Indra was the first foreign student allowed to practice in India amongst dedicated yogis, studying and practicing as a student of renowned Sri Tirumalai Krishnamacharya. Beyond being the first foreigner to practice in India, Indra is also credited as one of the first women to practice yoga amongst devoted yogis in India. Through her studies and teachings, Indra contributed to the expansion of yoga amongst women during a time when yoga was predominantly practiced by men only.
As if being an award-winning ballroom dancer, author, public speaker and entrepreneur wasn't impactful enough, Tao is also the world's oldest yoga teacher that is—as she puts it, "99 years young." Tao is a Master Yoga teacher who is devoted to sharing the ancient Indian, traditional practices of yoga to Westerners. Tao has over 70 years of yoga practice and more than 45 years of teaching yoga to students in India, France, Dubai, China, Russia and the U.S.
The female pioneer of Sangha Relations and co-owner of our very own Sadhana Yoga School and Keene Yoga Center, Anjili Russell is dedicated to helping children and families use yoga to nurture their spiritual identity, thereby healing and transforming their lives. Anjili is a teacher, author, public speaker and healer—hosting online courses, classes as well as domestic and international yoga teacher trainings for both adults and children. Anjili has grown her practice and wisdom in the teachings of yoga through her time studying with her guru Yogacharya Lalit Kumar in India, Las Piramides de Ka in Guatemala, Ana Forrest, Nischala Joy Devi, Elena Brower and Gabrielle Bernstein.
Founder of Katonah Yoga method, Nevine has been practicing yoga from an energetic perspective for over 40 years. Katonah Yoga method uses a blend of sacred geometry, mathematics, Taoism and yoga to navigate our physical and spiritual practices. Known for her unique ability to "read" people's bodies upon meeting them, Nevine has helped so many heal, grow and better understand their bodies through workshops, classes and courses at her studios in New York.
A pioneer for women in yoga, Maty was one of the first women to practice the third and fourth series of Ashtanga Yoga. Maty travelled to Mysore, India for many years to study with Sri K. Pattabhi Jois, as well as to Pune, India to study the Iyengar method with Geeta Iyengar, daughter of B.K.S Iyengar. Maty is the co-founder of YogaWorks, a Santa Monica-based studio that now has over 40 locations. Many of today's current "yoga celebrities" have studied with Maty, including Seane Corn, Kathryn Budig, Shive Rea and Rod Stryker.
Kino has become a powerful influence in yoga through her strong physical practice and devotion to traditions of India and Ashtanga. Since age 19 Kino has been a devout practitioner, traveling to Mysore, India annually to practice with her guru Sri K. Pattabhi Jois—known for popularizing Ashtanga yoga and helping this practice expand from India and into the West. Today, Kino carries on the legacy and lineage of the Ashtanga practice via her yoga studio in Miami, a significantly large social media following, 3 books, 6 Yoga DVDs and more.
These women didn't become impactful because of yoga alone. It was their ability to let their light shine bright—to be an example and embodiment of the light, love and peace in each of us.
Are you also inspired to let your light shine—to share, grow and help others heal? Learn more about our upcoming yoga teacher trainings and how these programs can reshape your life and the lives of those around you. 
Recommend

0

recommendations
Published in blog